A Vogue editor compares the Apple Event to fashion week
While on Instagram I can see the fashion industry at New York Fashion Week, I somehow found myself over in California at the 2017 Apple Event which is kind of like going to a Chanel show for the first time for the inner geek in me.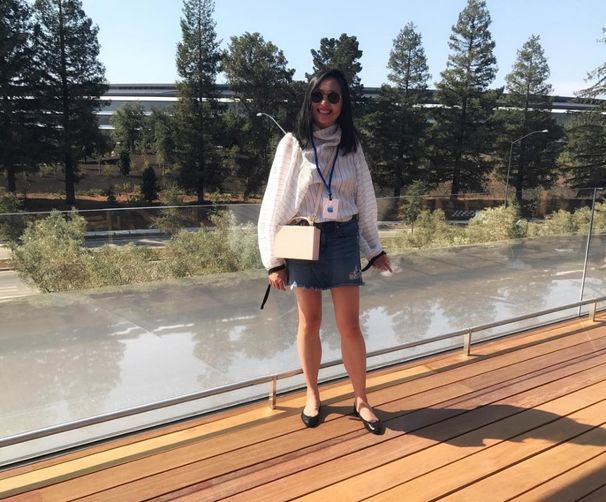 The significance of this event can't be overstated. It's the first time the event has been held at the new Apple Campus and the 1000 guests here today are amongst the first outside of Apple to see the space. While we haven't gone into the main spaceship part of Apple Campus, the event was held at the Steve Jobs Theatre. Ten years ago the iPhone was first announced making this year's one a momentous occasion. And yes, I did buy the first generation iPhone - as well as the first generation iPods, so it was significant to see how far the company has come.
Because of the size of the space - we had to walk up a windy pedestrian pavement to the Steve Jobs Theatre - comfortable shoes were advised. Which isn't too different to how I navigate fashion week anyway, but I have to admit there were more functional shoewear here at today's event than at most other fashion shows. While casual wear is the go, another tip I heard was that the theatres that host the events are often really cold, so I chose to don an Isabel Marant jacket over a Christopher Esber blouse and a Nobody denim mini - so it made me stand-out a little more than the usual, but Apple probably more than other tech hardware companies is more female-friendly - I definitely spotted a pair of Dries Van Noten heels in the crowd and Angela Ahrendts, Apple senior vice president of retail and the company's only female executive balanced out the fashion aspect in her pale pink lace Burberry trench coat.
+
|
نوشته شده توسط KarlaScott در چهارشنبه 22 شهريور 1396